Studies have revealed over three-quarters of Canadian businesses have migrated at least some (if not all) of their IT delivery to the cloud. More and more, small to medium-sized organizations are adopting affordable, cloud-based solutions to scale their business, reduce costs, increase data security and remain relevant in a competitive market.
In short, cloud-based computing has become the new norm for the majority of Canadian SMBs. If you've yet to turn to the cloud to improve your business operations, here are six advantages to consider.
What is Cloud Computing?
Cloud computing is the delivery of on-demand computer services (such as data storage, servers, software, networking and other applications) over the internet on a pay-as-you-go basis. Instead of keeping your valuable business information on a local storage device or hard drive, cloud computing allows you to increase infrastructure efficiency, remove upfront expenses, and easily adapt to current trends and business needs.
Accessibility
Organizations used to have to rely on physical servers to access and run their software and applications. However, cloud-based technology provides access to relevant software, applications and platforms without having to invest in expensive server equipment and/or resources.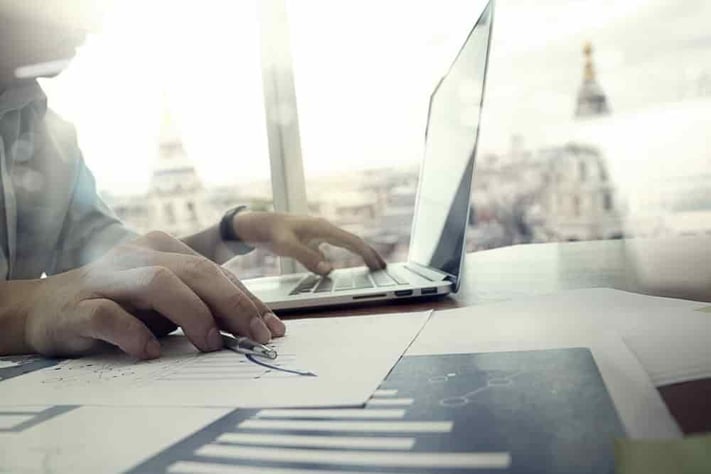 Scale and Grown Your Business
Cloud-based solutions allow you to scale up without having to acquire additional hardware and IT services to accommodate your growing team. Instead, your IT personnel can create and add (or remove) new users using the cloud. In addition, you'll never have to worry about how your current IT infrastructure will be able to handle growing customer numbers and demands.
Teamwork and Collaboration
Now more than ever, SMBs are streamlining their operations while reducing overhead costs by turning to remote work. Thanks to the cloud, employees can access and share relevant company data from anywhere– allowing them to collaborate on tasks and projects quickly and easily without sacrificing quality.
Increased Security
Not only does cloud computing keep your data safe in the event of device loss, damage or theft, but it also protects your information from falling into the wrong hands. As the cloud allows you to secure your data through strong passwords and encryption, cybercriminals have a harder time accessing your information. Cloud services also ensure regulatory compliance and guarantee company data will be accessible to employees even if a physical device is compromised.
Reduce Costs
Cloud-based computing can also help your SMB save money. For starters, you'll no longer have to rely on expensive in-house hardware to keep your business up and running. Instead, hardware expenses are passed to your service provider. As a result, you'll benefit from reduced labour and maintenance costs associated with repairs or upgrades. Other financial benefits include increased productivity and savings earned via the cloud's pay-as-you-go pricing model.
Business Disaster and Recovery
Cloud-based solutions are also vital in keeping your SMB up and running in the event of the unthinkable. Your data be safely stored (and accessible) no matter what and your cloud provider will perform regular (offsite) backups, significantly reducing reliance on vulnerable manual backups and physical infrastructure.
See our previous post: 5 Reasons Your Business Needs a Disaster Recovery Plan
Whether you're looking to scale your business, increase productivity and profitability, secure your data, or all of the above, we can help. GAM Tech's Hosted Private Cloud Solutions can be custom-tailored to your organization's unique needs and budget. Get in touch with us to learn more!
Sources: Microsoft, ZDNet, HostReview