Think you know everything is there is to know about managed I.T. services? We may have a surprise or two up our sleeves. Here are the top myths surrounding managed I.T. services, debunked.
Managed I.T. Services Are Expensive
One of the largest myths surrounding managed I.T. services is that providers are expensive.
What many small to mid-sized businesses don't realize is these services are often more affordable than hiring in-house I.T. staff.
For starters, there's the time it takes to interview and train employees.
Factor in a regular salary, sick time, vacation time and funds spent on consistently keeping up to date with the latest I.T. trends and suddenly, that in-house employee doesn't seem so affordable after all.
On the contrary, a managed I.T. service provider can actually save you money in terms of efficiency, eliminating costly downtime, increased productivity and streamlined operations.
Want more proof? Download our One-Man I.T. Shop vs. I.T. Services comparison chart.
Managed I.T. Services Will Compromise Your Data
Your data is your own; it should always be that way!
A reputable service provider will go above and beyond to protect your valuable information with round the clock monitoring and preventative (proactive) maintenance - ensuring that small problems stay small (or dealt with before they even have a chance to start).
Even better, many providers offer cloud-based services, guaranteeing your data will remain accessible, safely stored and 100% yours at all times.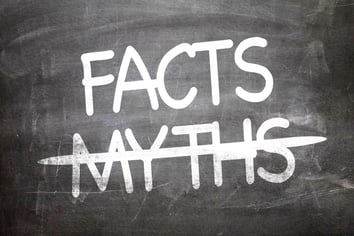 Managed I.T. Services Aren't For Small to Mid-Sized Businesses
We've said it before, and we'll say it again: cyber attacks on your business are never a question of "if," they're a question of "when."
Due to tighter budgets (and therefore limited resources to allocate towards I.T. services), SMBs tend to suffer at the hands of calculating cybercriminals the most (in many cases, to the point where they're forced to close).
The good news is, a reliable managed I.T. services provider won't just keep you up and running (affordably) they'll help you align your I.T. infrastructure with your business goals and scale your operations.
Check out this related article: What We Do As Your vCIO for Your Company
Managed I.T. Services Will Take Over Operations
Partnering with a managed I.T. service provider will be just that - a partnership.
As such, they will get to know your business and develop a foolproof I.T. strategy that's custom-tailored to your unique needs.
They help educate your staff (including any existing I.T. personnel), protect your data, your employees and your clients, and reduce downtime.
You can also count on them to communicate openly and honestly, ensuring you know what to expect every step of the way.
Related:
Find out how managed I.T. can help reduce downtime, boost productivity and help your business succeed. Book your free consultation today or get in touch with us to learn more.