If you're a business owner wondering what managed it services are, stop me if you've heard this one:
"Managed IT will build a plan for you and give you the latest and greatest!"
"Our managed services can take care of everything - just sign here for the next 3 years."
You don't want to be locked into a long term commitment, but it can discouraging and to try and understand everything on your own.
What do you do?
A lot of times when you're searching for qualified IT support, you'll bump into a managed services company... but what are managed it services? We're going to explain that and some key terms to help you onto a path to get the best IT help possible!
Managed IT Services: A Short Definition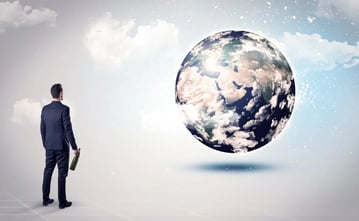 Managed IT services are an IT task (or series of tasks) delivered to a business by an expert third-party provider.
Typically, these services offer unlimited day to day support for a flat-rate or fixed fee, with the provider taking over responsibility for your company's IT services and equipment.
Small Business Owners: Important IT Words To Know
"Information Technology" (IT)
We can't leave this one out. Information Technology refers to all things computing technology.
This includes (but not limited to) the Internet connection, hardware, software, disaster recovery, networking, and the people who work alongside these technologies – such as your managed IT services provider.
"Service Level Agreement" (SLA)
A Service Level Agreement is a contract outlining the scope of services expected from a provider.
The contract should specify the metrics used to measure the level of service/ deliverables offered and what will happen should the agreed-upon service fail to meet expectations.
"Managed Services Provider" (MSP)
A Managed IT Services Provider delivers IT-related services and solutions to businesses.
These include network, infrastructure, security and application support through round the clock monitoring.
Traditionally thought of as a "luxury" only big businesses could afford, many providers now specialize exclusively in managed IT solutions for small businesses.
"IT Infrastructure"
The collective set of networks, hardware, software, equipment, facilities and service components needed to control, monitor, deliver, test, develop and support a business's systems and IT processes.
"Software As A Service" (SaaS)
A software distribution/licensing model a managed IT services provider offers on a pay-as-you-go subscription basis.
Located on external servers rather than in-house (aka the cloud), the provider then delivers the SaaS application remotely to users over the internet (vs. paying for and installing the software themselves).
Other key terms to know with managed IT service providers:
"Scope of Work" (SoW)
Also referred to as a Statement of Work, an SoW is a documented agreement between client and service provider. The document will clearly define what is (and isn't) included in a project.
This should include all deliverables, activities, and timeline for completion.
"Help Desk"
The help desk represents a single point of contact (SPOC) between users and the IT services provider.
The desk is generally responsible for technical support. This may include incident management, user support, requests for service, troubleshooting and more.
"Insourcing"
The process by which a business hires a person or department (in-house) to complete specific tasks (i.e. an in-house IT expert).
"Outsourcing"
The process by which a business hires an outside workforce to complete specific tasks (i.e. managed IT service provider).
"The Managed IT Services Model"
Unlike the traditional break/fix model adopted by so many SMBs, managed service providers take a proactive stance. By utilizing the latest software and processes to monitor endpoint security, we can keep systems up to date and prevent problems before they start.
In addition, a provider's services are both reliable and affordable. They have the capacity to deliver 24/7/365 coverage for a flat-rate (rates are typically tiered to suit a business's unique needs and budget).
In short, clients only pay for what they need, when they need it.
In this sense, managed IT services should not be regarded as a cost center, but rather a necessary investment in protecting your business. Managed IT services can streamline operations, and keep unnecessary expenses to a minimum.
Benefits Of Managed IT Services For Small Businesses
Save Time and Money
Reduce and control operating costs within a stable monthly budget. No need to consistently hire, train and allocate unpredictable resources toward in-house IT staff.
Customized Solutions For Your Unique Business Goals
Round the clock monitoring and support allows a service provider to truly get to know your business and its challenges. As a result, they can deliver custom-tailored services geared toward helping you achieve your business goals.
Reduce Downtime
A proactive approach serves to foresee and prevent problems before they have a chance to start. By reducing downtime, you automatically increase customer satisfaction and employee productivity.
Own Your Own Data
Opting for solution-based services (vs. simple data storage) means your data remains you own – always accessible, anytime, anywhere.
Compliance and Security
Your provider will strive to protect your business's reputation by ensuring all industry and regulatory IT compliance rules are met, if not exceeded.
Do you have more questions about managed it services? You can request an info call with GAM Tech's experts, right now. Start here to book your IT Consultation.