TechnoPlanet Productions, a leading channel marketing, news media, and events company that specializes in the technology industry, has recognized GAM Tech one of Canada's 50 Best Managed IT Companies in 2021 at their annual awards gala, streamed live from Twitch on Feb 03, 2022.
"We are proud that Technoplanet has acknowledged GAM Tech as one of Canada's Best Managed IT Companies. Our clients simply 'Leave I.T. To Us!" and our teams make sure their business technology is more reliable than ever before. This award is only possible through the hard work of every team member across all of our offices in Calgary, Edmonton, Lethbridge, Red Deer, Grande Prairie, Whitehorse, and Ontario."

Adrian Ghira, Managing Partner and CEO of GAM Tech.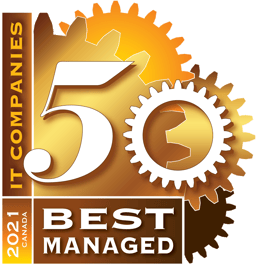 To qualify for the award, a company must prove distinction in their business operations, including vision, strategy, leadership, management, sales process, marketing, finance, operations, help desk/support, and services.
Also measured is supplier and client satisfaction.
"The COVID-19 pandemic has created challenges for our clients, and our commitment to them has been stronger than ever. We are proud of the relationships we have built and the flexibility our clients have gained with our help – creating solutions that contribute to their continuing growth and success during this unprecedented time." said Ghira.
Watch with Us: Witness the awards' ceremony featuring our very own Paul Peters!
(You may need to open the video in a new window.)
About GAM Tech
We make it easy for the "little guy" to find quality IT support.
Business owners are busy running everything, with no time to learn new technology, even if it will help grow their bottom line. IT Managers often work solo, ending up stuck with tedious tasks when they really want to innovate and help the company grow.
In business, we are dependent on IT to get our jobs done. GAM Tech aims to provide the most affordable and reliable IT support to help grow your business and achieve your goals.