A managed IT service provider will do a lot more than perform the occasional virus scan or software update. In fact, a good provider can contribute greatly to your business' current and future success. Take a look at the common problems your service provider will solve and how a solid IT partnership will propel your business forward.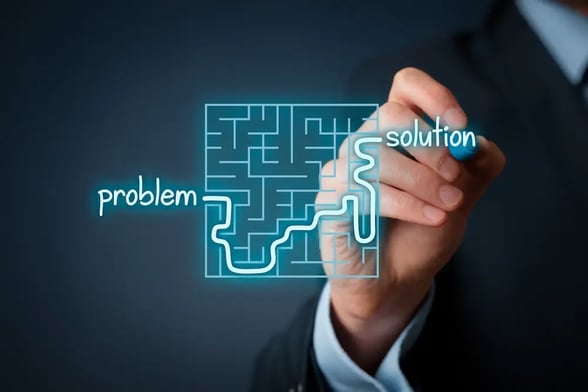 The Top 5 Business Problems Only Managed IT Services Can Solve
Cyber Threats
This may sound obvious, but it's important to remember a managed IT service provider's first and primary function is to keep your business safe. This is especially important for small to medium-sized Canadian businesses who are most at risk when it comes to cybercrime and data breaches. In fact, Statistics Canada has reported over one-fifth of Canadian businesses have experienced some form of crippling cyber attack thanks to spyware, malware, ransomware, viruses, data breaches and more.
Downtime
IT downtime costs the average company $5,600 per minute. And with most businesses experiencing a minimum of 14.1 hours of IT downtime annually, this adds up to nearly $79,000 in profits lost with an additional 545 hours of employee productivity down the drain. While the occasional downtime incident is inevitable for any thriving business, you can count on a good managed IT services provider to be reliable, responsive and accountable when it comes to your IT needs. This should include 24/7/365 support and 5-minute response times (in fact, 97% of your issues should be cleared up long before you even knew there was a problem).
Employee Disconnect
Your managed IT service provider will help transition your organization towards leading new technologies. Not only will this make your business more sustainable in the long run, but leading-edge software and business solutions are built to encourage collaboration and teamwork. For instance, Microsoft Office 365 is a popular new solution for businesses of all sizes because it allows employees to communicate more effectively with file sharing, meeting and chat capabilities and a more.
Data Deficiencies
Reliable, flexible data solutions are key to the success of any business. Your IT provider will ensure your data is securely stored (but accessible) at all times. They'll also work with you to create a long-term growth strategy that ensures your business' data-based needs will be met in the future. Your IT service will move you to new cloud-based data solutions that won't just keep your information safe, they'll save you money!
Growth Restrictions
Speaking of long-term growth strategies, they apply to more than just your data. Here again, a good managed IT services provider will work with you to come up with a plan for the long-term success of your business. Often referred to as strategic consulting, they will custom-tailor a strategy based on your unique needs and your budget. This includes a deep-dive into security and compliance requirements, backup and disaster recovery planning, staff augmentation, security, analytics and much more. Furthermore, they'll implement PROACTIVE maintenance – meaning most IT-related problems will be addressed before they've even had a chance to start.
For more information on the many great services a managed provider can offer, visit our services page. Or, better yet, book a consultation! We'd love to have a conversation about the support and success of your business.
Come check out both Calgary and Lethbridge locations!