Each year, hundreds of Canadian businesses and institutions suffer at the hands of cybercriminals. Here are just a few of Canada's most significant cyber attacks for the month of January.
Canadian Cyber Security Breaches
2-Year Phishing Campaign Targets Major Canadian Banks
Researchers recently uncovered a two-year-long phishing scam targeting the customers of fourteen major Canadian banks. Using look-alike domains, cybercriminals were able to send convincing emails to CIBC, TD Canada Trust, Scotiabank and RBC clients, urging them to enter their banking credentials. Although the attack has now been identified, customers impacted by the scam are urged to contact their financial institution and keep a close eye on their accounts.
Ransomware Attack Threatens Saskatchewan Patient Data
eHealth is struggling to restore operations after a ransomware attack led to the encryption of several files containing patient information. Responsible for overseeing information systems for many public health care organizations, the IT-based corporation advises no personal data was stolen – however, the incident has affected employee productivity and led to costly downtime. eHealth has opted not to give in to the attackers and will attempt to restore operations on their own.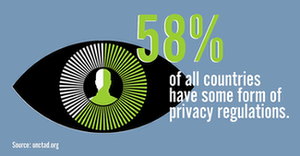 Other News for January:
Canadian Banks Increasingly Targeted By Cybercriminals
2019's Financial Breach Report has revealed that financial services organizations and their customers are becoming a primary target for cybercrime. According to the report, 6% of all data breaches affected these organizations, which also accounted for 60% of all leaked records. Experts have identified hacking and malware as the leading cause, with the average cost of a stolen record reaching an alarming $210. All organizations are advised to keep a proactive IT security strategy in place to minimize breaches.
Other Breaches:
Below are other notable, global cybersecurity breaches for January:
Below are other notable, global cyber security breaches for December:
| | | | |
| --- | --- | --- | --- |
| Name of the Organization | Type of Exploitation | Type of Company | Location |
| Sinai Health System | Phishing Scam | Healthcare Network | Chicago, IL, US |
| Synoptek | Ransomware | Cloud Hosting and IT Management | US |
| Special Olympics NY | Phishing Scam | Nonprofit Organization | NY, US |
| Active Network | Unauthorized Database Access | Educational Software Developer | US |
| Maastricht University | Ransomware | University | Netherlands |
| The Cabinet Office | Accidental Sharing | Governmental Department Responsible For Supporting the Prime Minister and Cabinet | UK |
| Travelex | Malware Attack | Foreign Currency Exchange | UK |
| Alomere Health | Phishing Attack | General Hospital | MN, US |
| Contra Costa Library System | Ransomware | Library Network | Contra Costa County, CA, US |
| Wyze | Unprotected Database | Home Security Company | US |
| The Heritage Company | Ransomware | Telemarketing and Fundraising Firm | US |
| Children's Choice Pediatrics | Ransomware | Pediatric Healthcare Provider | McKinney, TX, US |
| Perricone MD | Malware Attack | Skincare and Cosmetics Firm | UK |
| London Stock Exchange | Cyber Attack | Stock Exchange for City of London | London, UK |
| Hanna Andersson | Malware Attack | Children's Clothing Maker | Portland, OR, US |
| Health Quest | Phishing Scam | Hospital Network | US |
| The Center for Neurological and Neurodevelopment | Phishing Scam | Healthcare Provider | Vorhees, N.J., US |
| EuroTickets2020 | Malware Attack | Online Ticket Reseller | UK |
| Regus | Accidental Data Sharing | Municipality | Germany |
| GEDIA Automotive Group | Ransomware | Automotive Parts Supplier | Germany |
| Capita Education Services | Accidental Data Sharing | Software Management and Support Services | UK |
| Atlassian | Software Vulnerability | Enterprise Software Company | Australia |
Cybercrime is never a question of "if," it's a question of "when." Protect your business from crippling cyber attacks with the help of an accountable, reliable, responsible (and affordable), Managed IT Services provider.
Book your consultation today!