Updated March 29, 2021
Studies have revealed that 75% of Canadian businesses have migrated at least some (if not all) of their IT delivery to the cloud.
Since this article was written, the global pandemic has shifted the needs of all businesses, increasing the need for cloud-based solutions - "the cloud" is no longer optional!
More and more, small to medium-sized organizations are adopting cloud solutions to scale their business, reduce costs, increase data security and remain relevant in a competitive market.
In this article:
What is Cloud Computing?
Cloud computing is the delivery of on-demand computer services over the internet on a pay-as-you-go basis. This can include:
Data storage
Servers
Networking
It's more than likely that your favourite apps & software are using a type of cloud service and/or data center to deliver your experience, from Netflix, to Playstation Plus, to small business applications like Quickbooks.
Basically, instead of keeping your valuable business information on a hard drive, cloud computing makes data accessible through the Internet.
The advantages of cloud solutions have become extremely important to small business growth, allowing for increased efficiency, removal of upfront expenses, and flexibility to current trends and business needs.
Here are 6 benefits of cloud computing you need to understand AND that you can take action on, right now!
Benefits of Cloud Computing
1. You have access to your data, anywhere (Accessibility)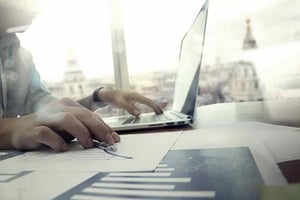 Companies used to have to rely on physical servers to access and run their software and applications.
Depending on the size of your business, these pieces of hardware could take up entire rooms with rack and racks of computer gear.
Now, thanks to easy-to-use public cloud storage solutions (think Dropbox or iCloud), you can access your software, applications and platforms without having to invest in expensive server equipment and/or resources.
Do you have a Dropbox account? Have you ever used a smartphone that uses an Android operating system? Then you've already used the cloud.
Both of these are software as a service cloud platforms that give you access to your data (photos, files, etc.) anywhere!
That benefit alone should give you thoughts of improved customer service - what would it mean to you to have the ability to provide documents on site, right when it's time to close a deal, unexpectedly?
2. Unlock new paths to business growth (Scale Ability)



Let's think together on this: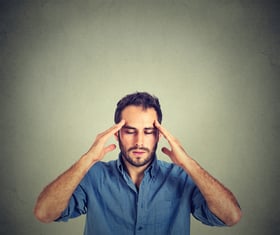 "With cloud storage, you can access data anywhere, as long as you're connected to the Internet."

"Cloud storage means no massive hardware needs."
Wait, if you're also thinking that you can scale up without having to acquire additional hardware... you're absolutely right.
Here's an example:
Without those hardware needs, your IT team can help to accommodate your employee growth.
What COULD have been cost for a larger floor plan in your office space, or utilities required to power that massive server rack… can now be re-directed.
Instead, the cloud is now making it easier for your IT personnel to create and add (or remove) new users to your service.
Now you can direct that cost into an area focused on growth! 👍

Plus, without the need to add new hardware to your systems, it can't ever become a sunk cost to be upgraded or replaced!
3. Promote effective teamwork and collaboration



Stop me if you've seen this in your team's company folder:
Now, once again, think with me:
"I can access my data from anywhere."
This is one of the best features for cloud services: The data you can access from anywhere can also be updated, 24/7, including updates in real-time for things like documents!
Yes - the cloud can unlock a new level of teamwork and collaboration, ESPECIALLY for work-from-home scenarios!
It brings more clarity with your communication, which means less time-wasted on finding, or creating, or managing the correct version of a document!
But that's not all - these platforms can also support video chat, conference calls, and entire workgroups, ALL focused on the same work, in real-time.
This SUPERCHARGES business work that can be completed anywhere!
Now more than ever, SMBs are streamlining their operations while reducing overhead costs by turning to remote work.
Thanks to the cloud, employees can access and share relevant company data from anywhere, allowing them to collaborate on tasks and projects faster, without sacrificing quality.
4. Increased Security

If you've ever had a laptop, smartphone, or tablet stolen or lost, it can be heartbreaking (and expensive).
For business owners, controllers, office managers - it can be budget busting… not only to replace the hardware - but the data that was on it can sometimes be priceless!
No fear, friends - not only does cloud computing keep your data safe in the event of device loss, damage or theft, but it also protects your information from falling into the wrong hands.
Cloud security allows you to secure your data through automatically created stronger passwords, encryption, and even remote wiping/earsing of devices.
With all of this at your disposal Cybercriminals have a harder time accessing that valuable information.
Cloud services also ensure regulatory compliance and guarantee company data will be accessible to employees even if a physical device is compromised.
5. Reduce your business costs

Let's take a tally of what we've covered so far - cloud services mean:
Less hardware needed

Access data anywhere with Internet

Improved collaboration between employees and team members

Increased device security and protection measures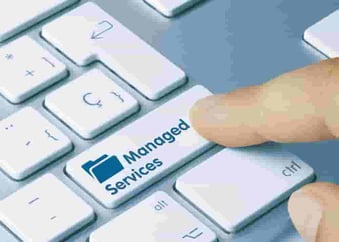 You can see where this all points: COST SAVINGS!

Yes, cloud-based computing can also help your SMB save money.
For starters, you'll no longer have to rely on expensive in-house hardware to keep your business up and running.
Instead, hardware expenses are passed to your service provider.
As a result, you'll benefit from reduced labour and maintenance costs, including costs from repairs or upgrades to the hardware your provider is managing.
Other important financial benefits include increased productivity and savings earned via the cloud's pay-as-you-go pricing model.

For SMBs, this type of pricing model means you only pay for what you're using. This lowers risk and keeps you from having to lock up funds in overpowered, frivolous upgraded hardware.
6. Easier business disaster recovery planning and data recovery
No hardware means no way to physically damage that hardware.
No drinks spilled on the tower in the conference room, no power surges…
No damage from any disaster that can physically harm your hardware, and therefore, no damage to your data.
"Safe" can seem like a subjective term, but any cloud provider worth doing business with SHOULD have checks, balances, layers of security, and even massive power back ups to make sure that the data they are caring for will remain in place in the event of a disaster.
If the unthinkable happens, cloud-based solutions are suppoed to be there to ensure your data is safely stored (and accessible) no matter what.
Most every cloud provider should be performing regular (offsite) backups, and other forms of maintenance, all of which significantly reduces reliance on vulnerable manual backups and physical infrastructure.
If you're using a cloud provider right now and aren't sure what sort of assurances you've got in the event of a disaster, it's a conversation you should start right away.
Not sure what questions to ask? You can start with a few examples we've provided in our free e-book download:
27 Questions To Help You Find The Best IT Provider
If you want to learn a little more about disaster recovery, you can see our previous post: 5 Reasons Your Business Needs a Disaster Recovery Plan
Whether you're looking to scale your business, increase productivity and profitability, secure your data, or all of the above, we can help. GAM Tech's Hosted Private Cloud Solutions can be custom-tailored to your organization's unique needs and budget. Get in touch with us to learn more!
Sources: Microsoft, ZDNet, HostReview