Office Fitness
What is Office Fitness?
Office Fitness is a new and popular trend of physical fitness during the repetitive nature of modern desk-centered computerized work.
Sitting at a desk all day in an upright position at a computer is not natural by any means. This new form of working is damaging to our bodies without a doubt, but there are many preventative measures that can be taken for lesser effects on the body.
To combat the typical 9-5 routine, it is crucial for individuals to exercise. But when? Finding time to get active in the typical 9-5 routine is tough, but not impossible. From implementing certain products into your office, to doing quick mini exercises, to even just adjusting your posture, it all helps and can greatly improve your overall health.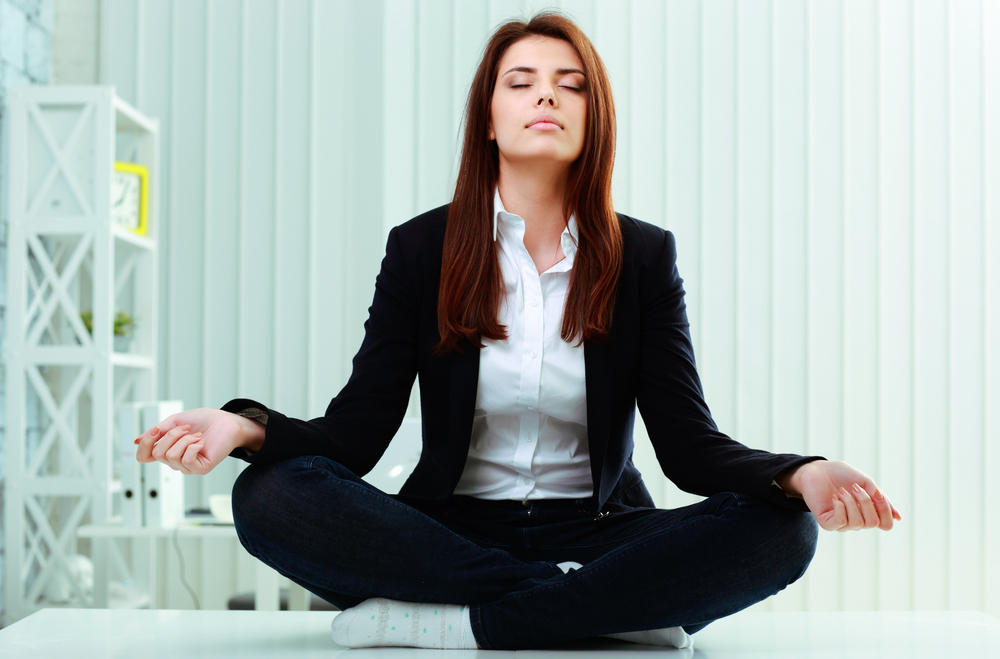 Office fitness is mainly about 3 things:
Incorporating enough routine movement during your workday to prevent "siting disease"
Gaining postural awareness (adjust your posture!) to prevent back pain
Doing enough exercise to address the unique harms and hazards of computer-centered desk work
With the assumption that you're stuck with your commute into work, that you'll sit down while eating and that at some point, you'll sit down and relax at the end of the day, that means during your workday is your best and really only opportunity to create an active routine.
Stand up desks or treadmill workstations are an excellent way to introduce fitness into your workstation, however many employers choose to not invest in these as they are quite expensive. If your employer is willing to purchase such equipment, one of our preferred desk systems is VARIDESK. When you feel like standing, adjusting your VARIDESK is simple too, because of their spring-loaded boost mechanism and dual handle design makes it super easy to lift, lower and adjust to any of the 11 height settings. The simple design gives you a spacious upper display area for your laptop, monitor, or even dual-monitor setup, while the lower deck has plenty of room for a full-sized keyboard, mouse and more.
Some small steps you can take right away to improve your office fitness:
To incorporate more routine movement during your workday, stand up whenever you answer the phone, instead of calling or emailing a colleague, walk to their office, and taker the stairs instead of the elevator if possible.
To gain postural awareness, try signing up for a yoga class or find some postures on google during your lunch.
Here are some quick and simple exercises you can do to improve your office fitness:
Under Desk Leg Toner: This incorporates the core along with your legs. Start with your feet FLAT on the floor, strengthen spine, extend one leg until it is level with your hip, hold for 10 seconds and SLOWLY lower leg, switch and repeat.
Bottom Line Lifters: This can be done wile you wait at the photocopier, or for your coffee in the staff room. This one works your glutes and can help relieve back pain. Stand with your feet shoulder-width apart, shift the weight to the left leg and lift the right leg behind you, hold onto something for balance, slowly circle your leg clockwise 25 times and counterclockwise another 25 times, switch legs and repeat as many times as desired.
Head Retraction: this one is good for those who stare at a computer screen all day. To do this simple exercise all you need to do is, tuck your chin down, lift the back of your head, and slide your head backwards as if you were closing a drawer.
Low-back lengthening: you cannot actually lengthen your spine; however, you can improve you posture and become a little taller by restoring the natural curvature of your spine, this is a very popular warm-up used in yoga classes. Raise both hands over your head with palms facing each other, take a big and deep breath, then as you exhale flex your body to one side and inhale as you return to vertical, repeat with he other side ads as many times as desired.
Aside from adjusting your routine and incorporating exercises, you can buy accessories to add on to your routine making the effects less noticeable. Some things in which you can buy for all under $100 are:
Active Office Board: As standing up becomes more common in the workplace, office workers are now facing new troubles: standing fatigue. Just as sitting all day is bad for your health, so is standing statically. Easy to use, by simply adjusting the platform you can subtly adjust movement in the board.
Backjoy SitSmart Posture Plus: My personal favorite, the posture plus is super easy and convenient to use. designed to allow you to sit in the perfect posture at any time and on any surface. The balanced design of the Posture+ helps hold the pelvis in its optimal tilt, while engaging and strengthening core, back and postural muscle.
Sit Disc: The Sit Disc provides an unstable surface for functional use as sitting. The dynamic nature of the disc engages the small, intrinsic muscles involved in maintaining balance, improving overall stability and mobility.
On November 11th & 12th Fitterfirst will be having formal NASA life sciences coach, Joan Vernikos speak about the benefits of movement, and will be having people try out the Centrifuge to see and feel the benefits of increased gravity at their Calgary office (#3050 - 2600 Portland Street SE.)
Staying fit in the workplace will not only benefit your overall health, it will also increase your job performance; it's a win-win situation for both you and your employer!
Fitterfirst has been "Leading the World to Better Balance" with quality, innovative balance training gear and core stability fitness products since 1985. We encourage everyone, from children to working professionals to seniors, to practice Stability in daily living, to improve Agility at play and to enhance Mobility for life (S.A.M.). The Active Office™ line is the solution to the traditional sedentary 9 to 5 work day. Work is an area of our daily lives that is in desperate need of a health wake-up call and we provide the means to introduce movement throughout the day. Using products such as sitting discs or ball chairs in the classroom allows teachers and students alike to gently move while sitting, without causing a distraction for others in the room.
For a full line up of products, visit their website at www.fitter1.com
As one of Calgary's top-rated IT service providers, GAM Tech specializes in delivering "big business" managed IT services to small and medium-sized organizations in Alberta and beyond. From disaster recovery and cloud solutions to VCIO services and strategic around-the-clock network security, GAM Tech has reliable, affordable solutions to keep you up and running.